You need more than prescriptions.
You need a partner.
Your Patient Care Advocate will be a licensed, registered health professional who is extremely knowledgeable about your condition. Your Patient Care Advocate will work with you and your health care provider to ensure safe, effective medication use.
You can also expect your advocate to:
Monthly Check-in with Patients
Call on a monthly basis to check in and answer any questions.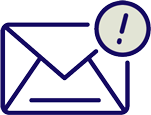 Emails & Automatic Reminders
Help you manage prescriptions with emails and automatic reminders.

Help with Financial Assistance
We also offer financial assistance, whether it means dealing with your insurance plan, with the manufacturer, or appealing to a charitable organization.



Available at No Cost
Best of all, the services our Pathstone Health Services Patient Care Advocate provides does not cost anything.